This post may contain affiliate links to our partners. It means that we get a commission if you decide to purchase on their sites - at no cost for you! Read more at the bottom.
What is Polar A360?
From the company that is well known for making wireless heart rate monitors, we have a new activity tracker, the Polar A360. Now, there are plenty of wrist-worn activity trackers with heart rate monitor available in the market these days and Polar has decided to introduce one on its own in the expanding market of wearables.
Update: Polar A370

So, without any further ado, let us find out what Polar A360 is and how is it different from other activity trackers in comparison.
This is a new activity tracker that tracks your heart rate based training. A heart rate based training is a training regimen that sets intensity based on your heart rate level. A few of its benefits are preventing athletes from excessive training; restricting them to light or moderate training so that they wouldn't burn out, allowing to measure performance increase; at a given heart level, pace increases as you train, and it also can be used to measure heart decoupling; which is increase in heart rate while holding a steady pace as fatigue sets in.
Moreover, being a 24/7 activity tracker you can wear it throughout the day and it will measure your every activity. Plus, it also doubles as a smartwatch of sorts as it is capable of displaying notifications from your iPhone or your Android device on a colorful touchscreen.
Check out an informative review video further down. If you think this is a great Christmas gift or if you have other considerations, please write them below in the comment sections for help others.
Now, a look at design and features.
Activity Watch Design
The wristband tracker is fitted with an interchangeable silicon band, which means you can pop the fitness tracker out from the band and fit it in a different color of your choice – more color choices to be available from January 2016. Since the band is made from silicon, it is hypoallergenic, promising to be gentle even on the most sensitive of skins.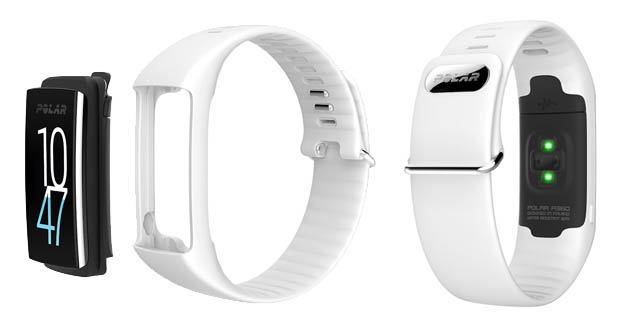 The rectangular color display sits on a rectangular chassis with chromed edges so there is no curved display to sit snuggly on your wrist. To make up for that loss, it does come in 3 different sizes, and to help you choose the right fit, you can print out the size chart from Polar's website before you purchase.
Other than that, its screen is a 13 mm x 27 mm display with a pixel density of measly 152 ppi. Minus the resolution, the display is a full-colour TFT display with capacitive touchscreen with a wide-viewing angle. On the bottom of the display is Polar's own heart rate sensor with two green LEDs to illuminate the capillaries and a photodiode to capture the blood flow.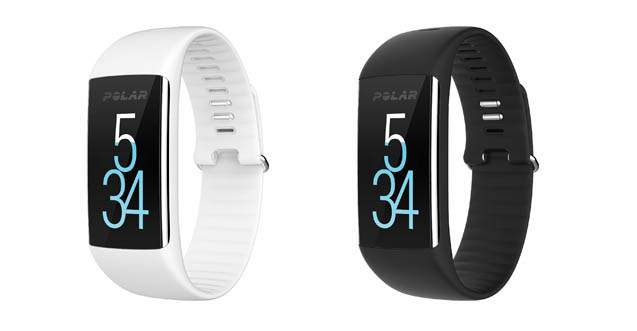 Smart Features
The fitness tracker features are comparable with other products currently available. However, we'll quickly go through its noteworthy features. It has a wrist-based heart rate monitor which the company claims is almost as accurate as its chest strapped H7 monitor, which, by the way, can also be paired with the A360.
Being a fitness tracker, the A360 is a pedometer first which counts the number of steps you've walked through its accelerometer. The tracker will also present the distance covered while you were walking, however, it would only be an estimate because the it doesn't have a GPS sensor to measure the distance.
Besides serving as a pedometer, it also tracks your other physical activities and calculates calories burned by you based on your age, sex, height, weight and of course, your heart rate. Even your sleep will be tracked automatically to provide some cool statistics. The wristband is partly a smartwatch as well. It has the ability to display your phone's notifications which include text messages.
You can use the A360 with Polar's smart coaching program. The Smart Coaching program is aimed to give you the best personalized guidance and feedback for training motivation.
Functionality
Polar claims that A360's 100 mAh battery could last for 12 days on a single charge with 1 hour of workout every day and smart notifications turned off. However, user reports state the device runs out of juice faster. Nevertheless, even at its current state the battery life sufficient for an all-day activity tracker. The gadget is also waterproof up to 30 meters of submersion. While this true, you probably won't be able to use the touchscreen while swimming. This is because of the limitation of the capacitive screen. Most wearable touchscreens fail when they are used in wet conditions or sweaty hands, and A360 isn't an exception.
In terms of compatibility with apps on your mobile, the A360 prefers Polar Flow over others. Polar Flow is a free app and offers a ton of training, monitoring, and logging functionalities. It also supports most fitness apps on iOS 7+ and Android 4.3+.
There are some great advantages of this device, like its water resistance up to 30 meters; which means you can wear it even when you are taking a shower. It has wide angle full-colour TFT display which works great indoors as well as outdoors in the sun. It doesn't require a proprietary charger – connect it to any Micro USB connector to charge. Micro USB can also be used to connect the device to PC and Mac.
Likewise, there are some drawbacks to this device.
Despite being a $199 fitness tracker, it doesn't come with GPS. Even the heart rate sensor which Polar developed in-house is slow to update heart rate measurements. This is in sharp contrast to the functioning of H7 monitor which works perfectly when paired to the A360.
Product Review video
I didn't find any good official product videos YouTube, but I think RizKnows review very good and informative. He even says it one of the best activity trackers out there right now. Take a look or scroll past if you want to know my verdict:
Ok, since we're at it, here is TechyAgents Hands On review as well:

Other Accessories
It is easy to remove the sensor piece and, therefore, easy to change wristband. More colors will be available in 2016.
Conclusion
I have some final thoughts I want to share with you in this review. For $199, I think this is a bit pricey gadget. Mostly because it doesn't have GPS and its heart rate monitor is a bit slow. Yet, the sensor's accuracy cannot be questioned as it provides accurate data. Other than that, the A360 is comfortable to wear and its band feels secure on the wrist.
If you are someone who can make full use of the Polar Smart Coaching and its heart rate based training, it is definitely a good buy for you. However, if you are just looking for a fitness tracker to log your day to day activities, there are plenty of cheaper options that will provide much better value for your money.
Before you decide, also check out the Fitbit Charge HR which have many of the same features but is slightly cheaper.
Pros and Cons
 Pros +
 Cons –

Looks good
Integrated Heart Rate Monitor
Waterproof
Color Touchscreen display
What's In The Box
Polar A360 activity tracker and band
Micro USB cable for charging
Quick start manual
Where Can I Buy Polar A360 and A370?
Click the buttons for the latest price, it might be a sale. If you are in or close to the USA click the top link to check recent price and additional info. If you are in or close to the United Kingdom, click the bottom link.
Remember to buy the right size since there are three sizes to choose from!
More Info or Questions
If you want more info before buying, check out the reviews from other users here. Her are few user review headlines:
"Great fitness band" By Michael Edwards Jr.

"Great, attractive fitness tracker for improving your workouts and lifestyle" By anotherday46

"New Leader of the Pack" By Lawrence M. Silverman
Do you have any questions or comments on my Polar A360 review, do not hesitate to leave me a comment below.
Technical Specifications
Here are the most important, technical details:
| General Design: | |
| --- | --- |
| Type | Wristband |
| Weight | 31.7g (Small), 33.7g (Medium), 37.3g (Large) |
| Dimension | Wristband 13.5mm thick, 23.5 mm wide |
| Size | 3 sizes (S, M, L) |
| Materials | Silicone band, Stainless steel, Plastic, Glass, Glass fiber |
| Interaction | One button / Touch display |
| Interface | 80 x 160 pixels, RGB Color Touchscreen Display (13mm x 27mm) |
| Battery Type | Rechargeable 100 mAh battery |
| Battery Life | 12 days (fewer days if HR monitoring is on) |
| Charge Time | Up tp two hours |
| Colors | Black and white (more colors like pink, blue ang green are coming in 2016) |
| Water-Resistant | Yes |
| Water-Proof (depth) | 30 meters |
| Vibration | Yes |
| Sensor | Optical HR Sensor and Accelerometer |
| GPS | - |
| Processor | - |
| It Tracks: | |
| --- | --- |
| Steps Taken | Yes |
| Flight of Stairs | - |
| Distance | Yes |
| Activity time | Yes |
| Calories Burned | Yes |
| Sleep Duration and Quality | Yes |
| Heart Rate | Yes |
| Pulse Oximeter | - |
| 24/7 (All day) | Yes |
| Other features: | |
| --- | --- |
| Inactivity/Idle Alert | Yes |
| Time | Yes |
| Silent Vibration Alarm | Yes |
| Auto Goals | - |
| Smart notification | Yes (vibrating) |
| Music Control | - |
| Connectivity: | |
| --- | --- |
| Wirelss or USB | Wireless and microUSB |
| Device Compatibility | Windows, Android and iOS |
| Sync Method | Bluetooth Smart |
| Mobile App | Polar Flow app |