This post may contain affiliate links to our partners. It means that we get a commission if you decide to purchase on their sites - at no cost for you! Read more at the bottom.
EverSleep is a gadget that analyses your sleep pattern – and improves it.
Sleep is an essential part of human life. Just like Food, Water, and Exercise, it is required for the normal functioning of the body. After a long and probably tiring day, human beings require a few hours of sleep to recharge. Even on days when a person hasn't been particularly active, the mitochondria of the cells have been expending energy.
Basic functions like breathing, blood circulation, brain processing etc. require a fair amount of energy. There is no escaping it really, a person must sleep for a few hours every day or risk developing some serious medical complications which can ultimately become fatal.
There is a worrying trend that can be observed today that points to the fact that people aren't getting nearly enough hours of sleep per day. In the United States alone, more than half of the population (63% to be exact) suffers from some form of sleep disorder. Even the ones that do get to sleep for a considerable amount of time have their sleep interrupted by diverse conditions. The EverSleep sleep gadget may just be the instrument to alter the course.
There is a 4 stage sleep cycle that constitutes proper sleep. Once there is any form of interruption in this cycle, it starts from the beginning again. This is one of the reasons why people can sleep for a long time but wake up feeling more tired than when they slept. Snoring, sleep apnea, and insomnia is just some of the many sleeping disorders that are becoming prevalent around the world today.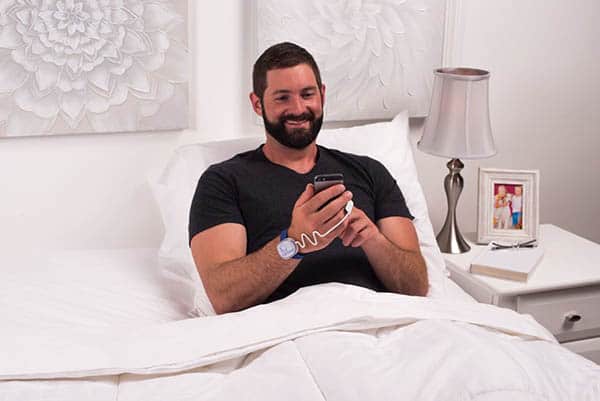 In recent times, there have been concerted efforts to develop gadgets that can help people sleep better. These sleep monitors examine the sleeping patterns of the user and help in improving the quality of sleep. With the rigors of the 21st-century world, such gadgets are bound to be useful to millions of people suffering from diverse forms of sleep disorder. One of the more promising entries into the market is EverSleep, a sleep pattern monitoring device packed with loads of helpful features.

So, What is EverSleep?
With proper sleep hygiene already an issue for many people, a device created to help with such conditions has to deliver not just only the essential functions and features, but it must also be comfortable to use. There is no point having a sleep monitoring device that feels uncomfortable and makes sleeping an even more tedious experience. The EverSleep device does not disappoint as a lot of careful planning and expert execution have been put into its design. The device consists of a removable wrist strap that is adjustable to fit snugly on the wrist of the user, a roll of medical tape and a Micro USB Charging Cable. The wrist strap is made of high-quality polycarbonate which makes it strong and durable.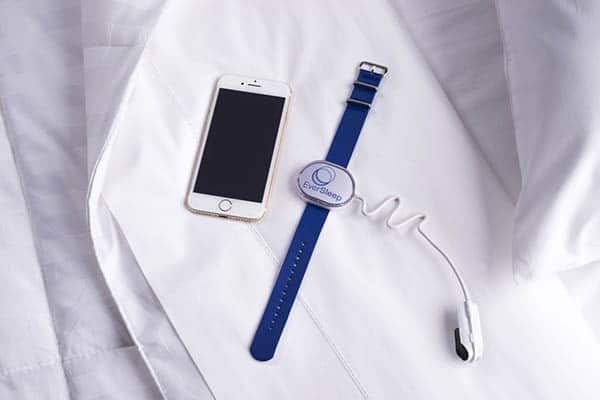 In terms of functionality, this device is akin to having the power of an entire sleep lab into one portable wristband. It is capable of measuring pulse rate, snoring, insomnias, blood oxygen as well as other sleep hygiene indicators. This powerful device is built to handle up to 40 complex measurements, aggregating and correlating them against a thoroughly developed user profile. EverSleep doesn't only just measure; it provides detailed information based on a thorough analysis of the user's sleep pattern. It has a robust sleep analysis engine that is capable of delivering a differential diagnosis of various sleep problems and providing useful hints and tips to solve those problems.
Main Features
Companion App: The EverSleep device is more than just a sleep tracker; it also has a well-designed coaching protocol that helps users improve their sleep hygiene. To this end, there is a companion app that is paired with the device. This app is compatible with devices that run on both iOS and Android platforms. Users can download useful information from the app containing important sleep measurements. The app also displays a ton of useful suggestions that users can apply to make sure they sleep better.
Battery: The device comes with a long lasting 150mAh lithium battery that is capable of providing enough power when in use. It also comes with a Micro USB Charging cable which makes recharging the battery a lot easier. The battery takes only two hours to charge and can last up to 16 hours on a full charge.
Connectivity: This uniquely designed sleep tracker comes with BTLE 4.0 Bluetooth. Users can easily establish the paired connection between the device and their smartphones. Software updates are installed over the Bluetooth connection. Thus, the device will always have the latest software updates.
Sensors: The EverSleep is a 5-in-1 sleep tracker that has 4 medical-grade sensors capable of monitoring over 20 diverse aspects of a user's sleep. This means that users will get a comprehensive analysis of their sleeping patterns as well as information regarding snoring, sleep apnea, and even insomnia.It has a +/-2G 12-bit accelerometer sensor for motion measurement and a temperature sensor with a range of between -200F and +120oF. This device also has sensors for pulse rate, saturation, heart rate, blood oxygen, respiratory function, and snore analysis.The oxygen measurement sensor is a Red/IR photoplethysmography sensor. This particular sensor is used by high-end sleep labs that charge upwards of $1,200 for sleep therapy treatments.
Dimensions: The device weighs 32 grams and its dimensions are 1.53 x 2.04 x 0.46 inches. It is lightweight and as such, will not feel like an inconvenience when in use.
 How does it Work?
Charge the device during the day to ensure the battery is fully charged. As stated earlier, all it takes is two hours for the battery to reach full charge. Download the EverSleep app from the App Store or Google play and pair the device with your smartphone. The EverSleep device uses Bluetooth Low Energy (BTLE) 4.0.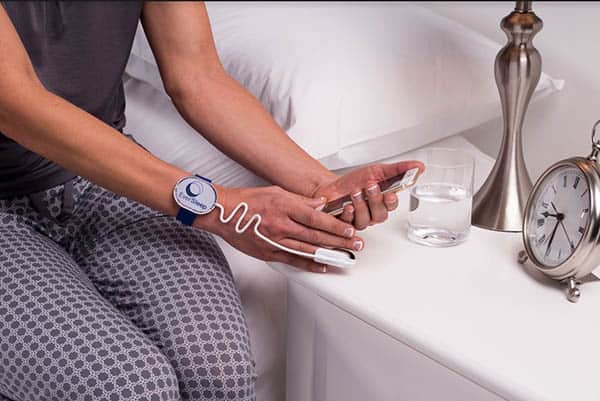 When you are ready to turn in for the night, wear the device by strapping the wristband around your wrist and securing the finger "band-aid" on your finger. The wristband is adjustable to ensure maximum comfort while in use.
The next step is to answer a short survey on your smartphone via the app. These are just a bunch of questions that will allow the device to be calibrated properly. It is important to answer these questions accurately so the device can function properly. Users with strict daily routines will find that their answers will not change much from day to day. However, it is important to take note of days when you may have strayed a little from your daily routine e.g. consuming alcohol, nicotine, or caffeine etc.
Once this is done, the device is properly calibrated and the user can tuck in for the night. All that is left is for the user to fall asleep and the device starts doing its work of collecting sleep data by carrying out all the necessary monitoring and measurements. The device will measure the user's body oxygen content up to 30 times per second using photosensitive detectors. The device will also measure pulse rate and sleep disturbances.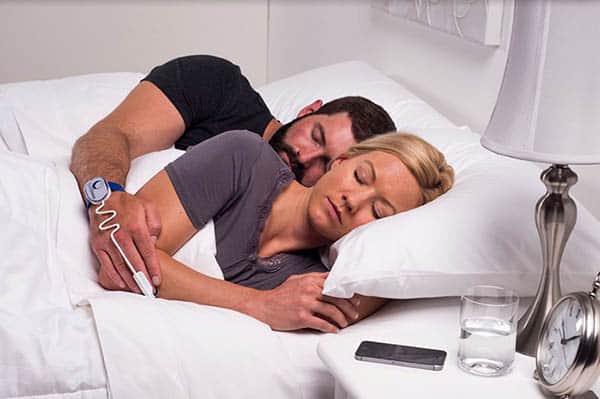 When the user wakes up in the morning, all of the data gathered will be available for download on the app as well as a detailed analysis of the data captured. Through the coaching feature, there will also be some tips for the user to employ in improving his/her sleep.
Video
Indigogo Information
EverSleep is developed by Somno's Health, a group of engineers, sleep experts, and entrepreneurs who have come together to deliver the power of top-of-the-line sleep labs in one wearable sleep tracking device. The first prototype of the device was finalized in August 2015 and the Indiegogo campaign for crowdfunding was launched in May of 2017. The expected retail price for the unit is $199.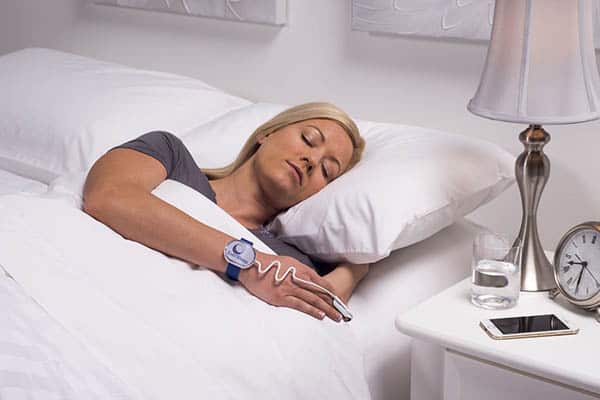 So are you tired of being tired, check out Indiegogo and their website for a lot more information on how to sleep better. Do you think this gadget could be useful for you? Leave a comment below if you have any questions or thoughts.