This post may contain affiliate links to our partners. It means that we get a commission if you decide to purchase on their sites - at no cost for you! Read more at the bottom.
My Fitbit Alta Fitness Tracker Review.
Fitbit has recently phased out some of their popular products like the Fitbit Charge to make room for a couple of new fitness trackers. Fitbit is still ruling the activity tracker throne with remarkable and interesting products more and more people seems to love.
But will their new fitness trackers be as popular as their predecessors?
Let us take a look at the Alta first and talk about Blaze in the next review.
What is Fitbit Alta
Fitbit Alta fitness tracker is a combined activity and sleep tracker with a few smart features for people who care about their physical health and want to be motivated by a simple-to-use product. People who want a tool helping them reach their training goals and keeping track of their daily activity would love the Alta.
Also, it suits people who want a stylish wearable they don't need to be embarrassed about wearing around the office or at a party.  In essence, it is an activity tracker for most people, but perhaps hardcore running and training enthusiasts must look to other products.
Design
With the Alta, it seems that the Fitbit designers have tried to meet both worlds and made a good looking wristband that suits both training and the social life. It is slim and not as wide as the Charge and looks much better on your wrist than previous models in my eyes, but I understand that is a matter of individual taste.
The build quality is eminent as we are used to from Fitbit. It has a sleek aluminum body with chamfered edges and a high-quality synthetic rubber band in three different sizes – small, large, and x-large.
It is easy to change the bands if you want something more personal or want to change from sporty to a formal look. Just hook of the band parts on both sides in the tracker piece and attach the new ones.
The locking mechanism itself is pin style clasp with two pins that fit holes in the band. It is not an advanced solution but the band stays secure on your wrist.
It is not very expensive either, costing around $129. Remember to check the links at the bottom for updated price.
Functionality
Fitbit Alta is as mentioned both an activity – and sleep tracker. That means it automatically tracks steps, calories burned, distance covered, active minutes, hours slept and sleep pattern. All this information is logged and showed on the display on your wrist and in the Fitbit App.
The unit has 30 days internal memory and syncs automatically via USB and Bluetooth to your smartphone if it is closer than 6 meters. It supports iOS, Android, and Windows phones.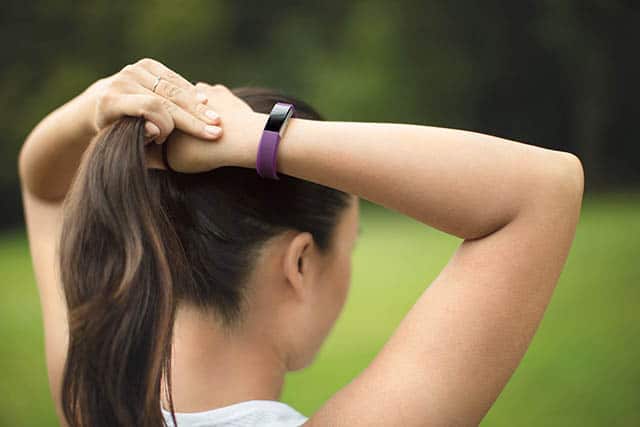 The large OLED display shows you the time, day and date by default. The surface is easy to scratch so be sure to protect it with a screen protector.
It is possible to change how the information is presented to you in the in the app. You can for instance switch between horizontal and vertical clock face. I prefer the vertical presentation since it is much more logical when you check the wristband gadget like a watch without turning your arm.
Other notifications like silent vibrating alarms, caller id's, texts and calendar notifications will show up on the display.
There is no button on the device, but you cycle through the different screens by tapping the side or the display face. It makes the fitness tracker look sleeker, but a button would be nice to have anyway.
It is not possible to manually record a workout on the device, but you can do it in the app. However, since the device is kind of smart it has a feature called Smart Track that recognize what kind of activity you are doing if you do it for more than 10 minutes. It works best for walking and running, thou.
New Reminders to Move feature
Fitbit has finally done as many other activity tracker manufacturers and implemented move reminder into the device. You are reminded to move if you have been lazy and you are encouraged to reach a certain daily goal. The default daily activity goal is set to 10.000 steps per day.
I think features like this is key to maintain motivation over time!
Product Video
Before we continue with accessories and the final verdict, take a look at Fitbit's own product video called 'Introducing new Fitbit Alta':

Accessories
You can buy new watch bands in other colors and materials to personalize the gadget. In addition to the standard black color, the choices are blue, plum (purple) and teal. New colors are coming to keep an eye out at Fitbit store and Amazon.
If colored bands are not for you, there are more luxurious metal and a leather band available, but they are a bit expensive.
I also tend to recommend buying a screen protector if you want the display to become scratch free.
Other available accessories for Alta is Secure Fasteners and replacement chargers.
Verdict
Fitbit Alta is made for ordinary people, both men, and women, who want to track their activity and be motivated to move more. It is not so much focused on exercise and training as it could be, but it looks stylish and cool.
It is a good choice if you are looking for your first fitness tracker or just want a new upgraded product. You can never go wrong with a product from Fitbit.
Pros & Cons
 Pros +
 Cons –

Stylish, good looking design
Comfortable to wear
All day activity
Smart notifications
Movement reminder
Automatic Sleep tracking

No heart rate monitor
No floors climbed
No button
Not waterproof
What's in the box?
The tracker piece and selected band in one of the sizes
Clip on style charger
Wireless sync dongle
Manual
Where can I buy Fitbit Alta?
You can buy it directly from Fitbit.com and get free shipping with orders over $50.
Or on my recommended store Amazon:
Always click the button to check recently updated price and additional info. Sometimes there are sales.
More info & Questions
If you have more questions or comment, please leave a message below in the comment section. Or you can check out other user reviews for first-hand experiences. Here are some examples of what people are saying:
"Best of Fitbit So Far For Me" by Chin

"I'm very satisfied with the purchase" by Amazon customer

"Motivation, right on your wrist!" by Sheri MacAleese
Technical Specifications
Here are the most important, technical details:
| General Design: | |
| --- | --- |
| Name | Fitbit Alta |
| Type | Wristband fitness tracker |
| Weight | 29 g |
| Dimension | 0.61" wide |
| Size | Small 5.5" – 6.7", Large 6.7" – 8.1" and X-Large 8.1" – 9.3". The number is wrist circumference. |
| Materials | Aluminium and synthetic rubber band |
| Interaction | Tap side or top face |
| Interface | OLED tap display |
| Battery Type | Lithium-polymer |
| Battery Life | 5 days depending on usage |
| Charge Time | 1-2 hours |
| Colors | Black, plum, teal and blue + metal and leather bands |
| Water-Resistant | Splash proof. Rain and sweat, ok |
| Water-Proof (depth) | No |
| Vibration | Yes |
| Sensor | 3-axis accelerometer and vibration motor |
| It Tracks: | |
| --- | --- |
| Steps Taken | Yes |
| Distance | Yes |
| Activity time | Yes |
| Calories Burned | Yes |
| Sleep Monitoring | Yes |
| Heart Rate | Yes |
| UV | - |
| Floors climbed | - |
| 24/7 (All day) | Yes |
| Other features: | |
| --- | --- |
| Time | Yes |
| Silent Vibration Alarm | Yes |
| Guided Workouts | - |
| Timer | - |
| Stop watch | - |
| Smart Notification | Yes |
| Music Control | - |
| Find my device | - |
| Connectivity: | |
| --- | --- |
| Wireless or USB | Wireless and microUSB |
| Sync Method | Bluetooth 4.0 |
| Mobile App | Fitbit App |
I hope you found my Fitbit Alta activity tracker review useful.