This post may contain affiliate links to our partners. It means that we get a commission if you decide to purchase on their sites - at no cost for you! Read more at the bottom.
A Smart Pedal that Tracks Activity And Protects your Bike
Once in a while, I come across fitness gadget ideas which are truly awesome. The smart pedal from Connected Cycle is one of them, and if it works as promised, I think it should be on every bike out there as standard equipment.
So you haven't heard about the high-tech smart-pedal? Not to worry – you'll get all the info you need right here.
The product is invented by the French guys Christian Kravanja and the designer Jean-Louis Frechin, who established Connected Cycle in 2013. They managed to get the funding they needed through Indiegogo after huge interest in the product. Watch the interview with the designer further down.
They probably thought: Why not have a permanently attached bike GPS tracker on your bike with the possibility to protect your bike at the same time? I'll come back to the protection part further down. And why not make it as a part that can easily be installed on both new and existing bikes?
The pedal was the design choice, and it can transform even your old bike to be a smart-bike.
Smart Pedal Design
The Connected Cycle pedal is nicely designed with aluminum casing and comes in five different colors – black, red, green, yellow and blue. It's not really much else to say, but it looks like a cooler version of an ordinary pedal. On the front and back are reflectors.
They claim that it is easy to mount on your bike, and no mechanical skills are needed. If you are a cyclist, you have probably changed out pedals once in a while before anyway. You need a special key to remove it again, so it's not an easy task to just remove it for thieves.
It looks like they have thought of everything.
The gadget never needs to be charged since it produces its own energy, probably with some kind of dynamo-technology.
Bike GPS Tracker Features
The activity tracker constantly tracks your speed, route, distance, calories burned, terrain incline with its internal sensors. Since it is a pedal, it can record cadence too, which you normally need special sensory devices for if you are used to wearing sports watches during cycling. Cadence is how many revolutions the crank does in a minute.
With built-in GPS tracker, you can easily keep track of where you have parked your bike, which is a cool feature in itself. The gadget utilizes its own SIM card to stay online and upload the data to a cloud. There is no need to actually bring a smart-phone or other activity trackers with you when riding your bike, and the data will be synced even if your phone is elsewhere.
The fitness tracker statistics are available via Connected Cycle app on smart phones and tablets.
Theft Protection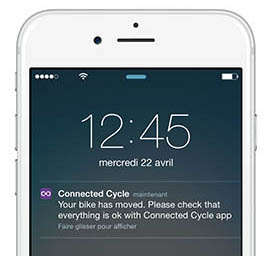 As mentioned above the pedal can be used to protect your bike, which I think is pretty great. Where I live stolen bikes are a huge problem, and probably where you live too. If your bike is stolen and moved you will get notified on your smartphone right away, and you will even be able to see where your bike is located and how much time it takes to get to it.
A Couple of Cool Videos
Here's an interview with the designer:

Also, check out this video from CNET called 'Connected Cycle is like a fitness tracker for your bike' where the pedal is presented at CES 2015.
Conclusion and Price
The clever idea and simplicity of the product appeal to me. Even if you are a private person or managing a whole fleet of bicycles in a town, this product will keep your bike safe and track how much distance the bike has covered. The smart pedals are at the moment only available to pre-order on Indiegogo, so go and take a look there.
Also, remember to check out my list with 25 Cool Bike Gadgets.
If you have any first thoughts on the idea, have any questions or concerns, please leave a comment below.