This post may contain affiliate links to our partners. It means that we get a commission if you decide to purchase on their sites - at no cost for you! Read more at the bottom.
The Core Workout Equipment you should know about.
The gym can be a terrifying place for some.
The first time you enter one, you feel overwhelmed by the equipment you have no idea how to use. The situation is all the more scary if you don't have a personal trainer, or at least an experienced workout buddy to show you a basics workout. Some pieces of gym equipment, however, tend to pale in significance in comparison to others.
This is the reason we made a rundown of crucial workout equipment in the gym. Keep in mind that everything that you'll read about here truly is important and that you should familiarize yourself with every item mentioned  before you decide which ones to incorporate in your daily training.
If you are planning on making your own home gym, the list below can be a handy tool to for you so you need to know what to buy.
Previous Post: Connected Cycle Smart Pedal – A Very Clever Idea
Here are the 7 Core Workout Equipment in order:
Free weights – This piece of equipment is, without a doubt, the most important one. Lifting up something without the support of a rail or a cable works for more than just the muscle areas that the gadget targets, but also the secondary muscles – those most often neglected.

Furthermore, by simply lifting heavy weight, you are improving your stance and stability and helping your body adjust to lifting weights. When we're talking about free weights, we primarily mean barbell and dumbbells.

However, a curl bar can come in very handy for bicep and triceps workouts. Somewhat shorter than the barbell, this bar provides more grip and helps you target primary muscles. On that note, the tricep bar (oval shaped, with two parallel hand placements) offers even more grip and is specifically designed for tricep exercise – a muscle commonly in the shadow of the famous bicep.

Treadmill – Now, if you're not one for outdoor jogging, the treadmill is an equally good exercise – perhaps even a better one! This machine can tell you what your heart rate is, offers plenty exercise options, allows you to set incline and speed variations and combinations.

Furthermore, concrete can bring serious damage upon your knees while this fascinating device benefits from a soft rubber surface. We recommend spending at least 15 minutes a gym day on the treadmill as a regular cardio workout.

Check out my list over the 9 best treadmills for home use. – I'm sure you find a treadmill that fit your needs.

The rowing machine – This piece of equipment has multiple benefits.

On top of the fact that it does wonders in strengthening your back and providing a perfect warm-up exercise for pull-ups and chin-ups, the ergometer (i. e. the rowing machine) helps you achieve agility, composition in your workout and, more importantly, improves your rhythm feel (don't be fooled, this sense is of utmost importance in almost any exercise routine).

Furthermore, the rowing machine can burn up to 1,000 calories per hour and improve your metabolism, heart-rate and blood flow.

Check out our list of the 10 best rowing machines for your home gym.

Cable machine – While, admittedly, this machine isn't perfect for improving your strength, when it comes to toning up, you can rest assured that no piece of gym equipment does a better job.

The array of activity that the cable machine has in store is so wide, that you can even come up with your own exercises! Push downs for triceps, pull downs for your lats, side extensions for your shoulders, cable curls for your biceps, cable flies for your chest, the list goes on and on.

Although free weights, mentioned above, are a far more important piece of gym equipment, making progress often means making changes to your routine, and this is where the cable machine comes more than handy.

Hyper extension bench – This gym item is mostly designed for targeting core muscles, such as abs, lower back muscles, and glutes. There is a reason why no gym lacks this basic piece of equipment – it is highly adaptive to different routines, easy to use, and proves for a fantastic fat-burning, muscle-toning experience.

The number of exercise variations here often coincide with that of the cable machine – all we can tell you is that it is huge. Whether you want to work upper, lower, lateral abs, or your back muscles and glutes, there is no escape from this torture machine (in a good way, of course).

Renegade Gym Equipment is a popular choice of equipment, providing a plethora of quality machines and items. Their Flat Weight Bench, for example, is designed with stability, comfort and versatility in mind.

Stability ball – Also known as an exercise ball, this gym equipment piece is often a subject of oversight. But what most of those inflated, muscular guys refuse to admit is the fact that stability and agility aren't only boxing and athletics-related.

Whether your ambition is to pull trucks or not, maintaining an equal muscle strength and coordination is something every gym rat out there should be aiming for.

Sit on it, roll on it, stretch out backwards over it, think of your own exercise and let it be your playground – either way you're working your entire body while having fun and, admittedly, probably ending up looking downright ridiculous.

Medicine ball – Now here's an interesting alternative to free weights. Well, technically speaking, the medicine ball is a member of the free weight family, but way more difficult to use. Why? Well, you have no grip! Essentially (and literally) it's a ball, and a heavy one at that, so you'll be holding it with both hands for the majority of the time.

Be warned, though, that you should approach these with caution, for you might quickly lose your balance and end up hurting yourself, or others – something you definitely do not want to take place in a gym.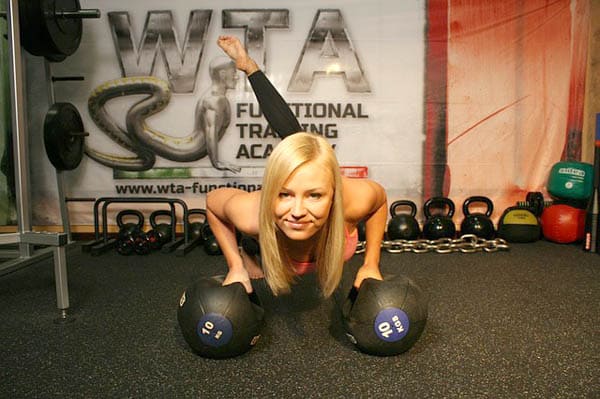 Well, there you have it, a general rundown of the most important pieces of equipment for beginners, as well as intermediate and advanced gym enthusiasts.
Share this with a friend that has just started going to the gym – I know he or she will appreciate it.

Keep your workouts regular and always remember – looking borderline ridiculous beats not being able to look at your potbelly in the mirror further down the line!
If you have any questions after reading this list of core workout equipment, I encourage you to post them below. Maybe you have a fun story from the gym?
Author Bio
This article is written by Norah Martin, Editor at HighStyleLife. Follow her, and them, on Google+, Facebook, and Twitter.