This post may contain affiliate links to our partners. It means that we get a commission if you decide to purchase on their sites - at no cost for you! Read more at the bottom.
Will the Fitbit Blaze smart fitness watch be a new bestseller?
The name Fitbit has become synonymous to fitness wearables; it can be recognized as the iPod of wearables right now. Fitbit dominates the market with 70% of total sales made by a single company. Its dominance was reaffirmed when the Fitbit app became the most downloaded app on Christmas Day.
Also, Fitbit is likely to stay that way even in 2016. Fitbit's new fitness tracker 'Blaze' was announced at CES 2016 together with Fitbit Alta and it seems to be aimed at the market of Apple Watch's. Fitbit claims that Blaze is as stylish as it is smart. While we agree that Blaze is more fashionable compared to its previous models, it is not really a showstopper.
Why? Read on to learn our Fitbit Blaze smart fitness watch first impressions. Also, remember to check out the new Fitbit Ionic.
Design
Even at the first glance, you would not be able to help but notice that it is a good looking fitness gadget in the market. Blaze's tracker module, which is square shaped, is framed inside a square (okay, octagonal if you insist) steel frame, and there are spring bars on top and bottom of this frame where the interchangeable bands go.
So, it is a very customizable design. You can choose not only the color of the band but also the framing around the device. Since the module itself is pretty bland looking, it blends with any frame you pop into.
Although the 3 band colors are more popular, more options, like the leather band and metal bands are also available.
The Blaze sports a 1.66 inches 240 x 180 (around 180 PPI pixel density) LCD screen, which is probably the nicest one Fitbit has ever made. Also, the screen is protected by a Corning Gorilla Glass 3 for better protection. Since it has a color display, what is impressive is that it can go 5 days without charging.
You can customize how the display looks by choosing different watch faces and it is very easy to read the display in the sunshine.
All the three bands available in different colors, black, blue, and plum are made from the same elastomer material. Fitbit's previous bands have had Elastomer bands, and they were known to cause skin rashes to some users. It is disappointing the company didn't choose the more skin-friendly, hypoallergenic silicone bands. But, if you are sensitive to elastomer, you can always choose to wear leather or steel band; while the latter is not suitable for workouts, you can easily swap them before and after a workout.
Each band is available in 3 different sizes: small, large, and medium. One of our personal concern is that the 1.7 inches wide Blaze might not fit on small wrists.

Features
There aren't many new features in the Fitbit Blaze compared to its previous models, but it is already doing a good job at tracking workouts, so why change? But this isn't just a fitness tracker; it also has some smart features up its sleeves.
To track all activities, the Blaze has a 3 axis accelerometer, an altimeter for vertical climbs monitoring, and a heart rate sensor, all of which were already present in the Fitbit Surge. Notably, the Blaze doesn't have a GPS sensor like the Surge, but you can pair the blaze with your phone for GPS and you'll get accurate details of your distance covered. But it is not always convenient to carry your phone when you are running or cycling.
The heart rate sensor constantly monitors your heart rate and calculates different zones based on your heart's response to different activities. Even your steps are counted continuously throughout the day.
Besides the pedometer function, you can track multiple activities like running, biking and cardio workouts by selecting them manually, even if you forget to turn on tracking, the Blaze will recognize and track that activity for you; this feature is called SmartTrack. SmartTrack returns these 3 metrics, namely time, average heart rate and calories burned.
There is also a 7-minute warm-up fitness coaching program called the FitStar to guide you through workouts, step by step. You'll also get a summary after every workout on your Fitbit app on your phone. Blaze will also track your quality and duration of sleep automatically as well as gently wake you up with the vibrating alarm.
As we mentioned earlier, the Fitbit Blaze also has some smart features. You'll be able to receive notifications from your phone about Calls, Texts, and Calendar Event notifications and then swipe them away so you can manage them on your phone. Only the notifications from the apps mentioned above work with the device.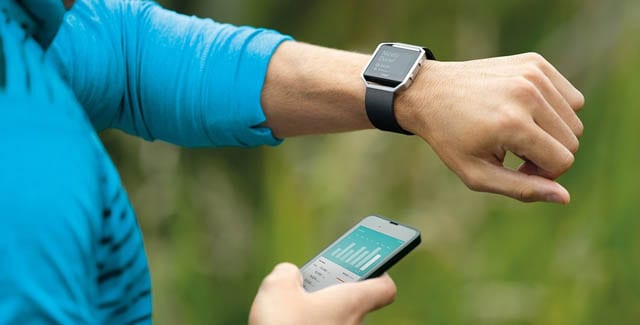 This isn't a real smartwatch and should not be confused for one, even if it is meant to grab the attention of Apple Watch customers. You'll also be able to control music on your phone, but which apps will be supported is yet to be found out.
The part where your Fitbit syncs with your phone is not to be worried upon as Fitbit has the largest number of device support in fitness wearables; Fitbit claims more than 200 devices. If you own any Android, iOS or Windows device, your device is likely to support the Fitbit app.
Accessories
You can switch the interchangeable band between silicone, leather, and steel. It is also possible to buy screen frames for making the smart gadget even more personal.
And I recommend buying a screen protector for keeping the display scratch free and extending the lifetime of the product.
Official product video
Here is Fitbit's official product video on YouTube called 'Introducing new Fitbit Blaze':
Video review
Check out this Fitbit Blaze Review from The Verge:
Verdict
Priced at around $200, the Blaze is altogether aimed at a different class from the Misfit Ray or the Mio Slice which are around $100, but I think the price is worth it. The Blaze is rather trying to woo customers from that are looking for a smartwatch that is pretty and pro fitness.
When compared to its predecessor, Surge feels a pretty rugged device, whereas the Blaze is sharper and better looking but not at the compromise of features.
Are you excited about the new Fitbit gadget or have any questions? Let me know in the comments section below.
Pros & Cons
 

Pros +
 Cons –

Looks great
Awesome responsive color screen
Comfortable to wear
Heart Rate sensor

Not Waterproof
Screen could have been bigger
Could have been more advanced
What's in the box?
Fitbit Blaze Tracker
Classic Wristband
Charging Cable
Where can I buy Fitbit Blaze?
You can buy it directly from Fitbit.com and get free shipping with orders over $50.
Or you can buy it in my recommended store, Amazon. It's a #1 Best Seller in the Smart Watch section:
Always click the button to check recently updated price and additional info. Sometimes there are sales.
More info & Questions
If you have more questions or comment, please leave a message below in the comment section. Or you can check out other user reviews for first-hand experiences. Here are some examples of what people are saying:
"Best Fitbit I've had yet" by J. Harlan

"Keep me going, work flawless with my Iphone 6s …" by Captain Giack

"Great stylish and functional" by androidguy
Technical Specifications
Here are the most important, technical details:
| General Design: | |
| --- | --- |
| Name | Fitbit Blaze |
| Type | Smart watch looking fitness tracker |
| Weight | 29 g |
| Dimension | 40.13 mm wide, face 19.05 mm x 25.4 mm |
| Size | Small 14 cm – 17 cm, Large 17 cm – 20.6 cm, XL 20.6 cm – 23.6 cm. The number is wrist circumference. |
| Materials | Aluminium and synthetic rubber band |
| Interaction | Color Touchscreen and side buttons |
| Interface | Color LCD |
| Battery Type | Lithium-polymer |
| Battery Life | 5 days depending on usage |
| Charge Time | 1-2 hours |
| Colors | Black/Silver, Blue/Silver, Plum/Silver and Black/Gunmetal |
| Water-Resistant | Splash proof. Rain and sweat, ok |
| Water-Proof (depth) | No |
| Vibration | Yes |
| Sensors | 3-axis accelerometer, optical heart rate monitor, altimeter, ambient light sensor, vibration motor |
| GPS | Yes (if connected to phone) |
| Memory | 7 days detailed, 30 days daily movements |
| It Tracks: | |
| --- | --- |
| Steps Taken | Yes |
| Distance | Yes |
| Activity time | Yes |
| Calories Burned | Yes |
| Sleep Monitoring | Yes (auto) |
| Heart Rate | Yes (PurePulse) |
| UV | - |
| Floors climbed | - |
| 24/7 (All day) | Yes |
| Other features: | |
| --- | --- |
| Time | Yes |
| Silent Vibration Alarm | Yes |
| Guided Workouts | - |
| Timer | Yes |
| Stop watch | Yes |
| Smart Track | Yes |
| Smart Notification | Yes (Call, Text and Calendar Alerts) |
| Music Control | Yes |
| Find my device | - |
| Evironmental: | |
| --- | --- |
| Min Operating Temperature | -10° C |
| Max Operating Temperature | 45° C |
| Maximum operating altitude | 8,535 m |
| Connectivity: | |
| --- | --- |
| Wireless or USB | Wireless |
| Sync Method | Bluetooth 4.0 |
| Mobile App | Fitbit App |
I hope you found the Fitbit Blaze smart fitness watch review useful.
Have a nice day.