This post may contain affiliate links to our partners. It means that we get a commission if you decide to purchase on their sites - at no cost for you! Read more at the bottom.
What we like and don't like about the Samsung Gear Fit Activity Tracker
The Gear Fit is Samsung's take on wearable wireless health trackers. Aimed at heart-rate based training, the Samsung Gear Fit activity tracker provides monitoring and tracking for 4 types of activities. Placed in the $100 price bracket, it is directly in competition with other HR trackers like the Garmin Vivosmart HR and Polar A360, but a bit cheaper. Even the Gear Fit is marketed as a 24/7 wearable, but its features fall short. The hardware of the fitness tracker is great, but it is the software that betrays it.
Remember to read about the new Samsung Galaxy Watch Active 2 if you are a Samsung fan.
We'll find out why further in this article as we discuss its features and design. Let's begin with an overview of its design.
Update: Version 2 is here:

Design
The Gear Fit is designed for all day wearing for which a soft band is a necessity. Rightly, the band is soft and comfortable to be worn all day long and the tracker's lightweight built is not a cause of concern if you are worried about weight. However, the strapping mechanism of the band is not very secure; there have been instances where the band would pop out unknowingly. But on the bright side, the bands are interchangeable and available in various colors.
This activity tracker has the biggest and brightest display for a fitness tracker in this category. Measuring 1.84 inches diagonally and a screen density of 244 ppi, the gadget's curved Super AMOLED display make colors distinctly visible.

But the screen is not as bright under the sun; you can manually increase the brightness, but it goes back to its original settings in a few minutes to save battery.
The display is curved and that looks great; unless you are under the sun when it keeps on catching the glare. The device is also dustproof and water-resistant like its peers. On the back of the display is the optical heart-rate sensor. To charge the device, the Gear Fit must be connected to a small charging dock which in turn connects to any micro-USB charger. This is a nice touch, but the dock is too small to not lose it.
Functionality
The Samsung Gear Fit activity tracker might not be a smartwatch, but it has some smart features. You can read notifications from your phone on your wrist. Although the elongated display makes it hard to read either horizontally or vertically, with smaller text size you can manage to read them. To switch between screens and settings, you can swipe through them; transitions are smooth and responsive.
Heart rate is monitored continuously when in exercise mode. There are four types of exercise modes: walking, running, hiking and cycling. Surprisingly, you'll need to turn on the pedometer separately even when you are in walking mode and even then it will turn off on its own. This is one of the major drawbacks of this device.
All fitness trackers measure your steps continuously throughout the day and it is really annoying when your fitness tracker gives up on you during your jog.
The heart-rate monitor is also spotty at tracking your beats. Maybe it is unable to make clear contact with the wrist. If that's the case, then Garmin's Vivofit HR's protruding optical sensor was a smart design.
The Samsung Gear Fit fitness band's battery is claimed to last 3-4 days, which is tested to be true by many owners. Still its battery backup is definitely not as good as others, mostly due to its AMOLED display.
Product video
One of Samsung's official product videos, 'Samsung Gear Fit: The Dancer'. Take a look:
Compatibility and Syncing
The Gear Fit runs on what Samsung calls integrated S health software and to synchronize with your phone, you'll need to download the Galaxy fit manager app or S health on your mobile device. If you already have a Gear Fit compatible device, you'd be familiar with S health.
That brings us to another serious drawback: limited compatibility. The Gear Fit is compatible only with select Samsung devices, all of which run on Android 4.3 or later. Although there are unofficial ways to sync data with non-compatible devices, still iPhone remains out of purview.
The training gadget supports many watch customizations and its AMOLED display makes those look beautiful. Double-tapping the home button brings up customization options on the unit and three taps sends a panic message to your emergency contact.
Other Accessories
The wristband on the Gear Fit can be replaced so there are plenty of possible ways to buy a new band and get a new look of the activity tracker.
It is also possible to buy screen protectors which I always recommend for products with displays. It's so easy to bump into something and scratch the surface.
Verdict
The Samsung Gear Fit activity tracker is hands down the prettiest of all fitness bands at this price point. Moreover, it is IP67 certified to be dust-proof and water resistant; but is not swim-safe. It has an additional gyro sensor to detect gestures for screen wake – but still waking the screen is a hit and miss. Notifications are rich and responsive and look great on the AMOLED display.
However, there are some obvious drawbacks. Its default horizontal display is inconvenient to read as well as scroll. There is no way to look at it without awkwardly tilting your head. Even if you were to correct the orientation from settings, you'll end up with unpleasant text to read.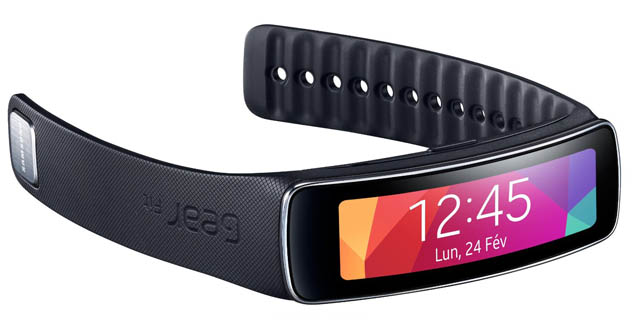 One of the main drawbacks is its coaching software. Samsung provides a coaching software which does nothing but log data of your workouts. You cannot learn anything meaningful from your steps or heart-rate unless you apply and compare with a training schedule. For example, if you decide to take a break in the middle of a jog, the Gear Fit would prompt you to continue your pace based on your heart rate even if you were standing still.
Then, if you choose cycling activity, the device requires GPS signal from the phone to calculate distance. Any other device would have simply calculated calories burnt based on your heart-rate. You also need to turn the pedometer on separately after selecting your workout activity.
It can track sleep for you, but you'll need a separate app that logs your sleep. It appears that the Gear Fit manages to makes fragmentation possible even on its already narrow ecosystem.
So, in the end, what is Samsung Gear Fit actually able to do? It doesn't track your continuous steps, doesn't provide coaching based on your training history. Then? Maybe it is just a fancy watch that tells time with gorgeous backgrounds.
Pros and Cons
 Pros +
 Cons –

Nice to look at
AMOLED display
Cool as clock
Price

No GPS
Not 100% waterproof
Not particularly good on the software side
Works only with Samsung smartphones
What's In The Box
Samsung Gear Fit activity tracker
Charging dock
Micro USB pin travel charger
Warranty card and quick start guide
Where Can I Buy Samsung Gear Fit?

US: Purchase on Amazon.com. (US warranty)

UK: Purchase on Amazon.co.uk.
Always click the button to check recent price and additional info. Sometimes there are sales. If you are in or close to the USA click the top link to check recent price and additional info. If you are in or close to the United Kingdom, click the bottom link.
More Info or Questions
If you want more info before buying, check out the reviews from other users here. It gets 3.5 stars out of 5 among the Amazon reviews. Here are a few lines by other reviewers:
"Cool and useful wearable" by Marco Verdesca

"Samsung gear fit is very inaccurate as a fit traker." by Brian Whittington

"Very nice product. Was able to sync with my Galaxy …" by Alfredo Mendez
If you happen to have any other questions or comments on my Samsung Gear Fit review, do not hesitate to leave me a comment below!
Technical Specifications
Here are the most important, technical details:
| General Design: | |
| --- | --- |
| Type | Wearable wristband |
| Weight | 26 g |
| Dimension | 0.92" x 2.26" x 0.47" |
| Size | One size |
| Materials | Rubber band |
| Interaction | Touchscreen, svipe and tap. Power button. |
| Interface | Curved 1.84 inch Super AMOLED display – 128 x 432 Pixels |
| Battery Type | Li-ion 210mAh rechargeable |
| Battery Life | 3-5 days depending of usage |
| Charge Time | - |
| Colors | Black (colored bands can be bought seperat) |
| Water-Resistant | Dust and water resistant only (IP67) |
| Water-Proof (depth) | Not waterproof |
| Vibration | Yes |
| Sensor | Accelerometer, heart rate and gyro sensors |
| It Tracks: | |
| --- | --- |
| Steps Taken | Yes |
| Distance | Yes |
| Activity time | Yes |
| Calories Burned | Yes |
| Sleep Monitoring | Yes, but not good (own app) |
| Heart Rate | Yes |
| UV | - |
| 24/7 (All day) | Yes |
| Other features: | |
| --- | --- |
| Time | Yes |
| Silent Vibration Alarm | - |
| Guided Workouts | - |
| Timer | Yes |
| Stop watch | Yes |
| Smart Notification | Yes |
| Music Control | Yes |
| Find my device | Yes |
| Connectivity: | |
| --- | --- |
| Wireless or USB | Wireless and microUSB |
| Device Compatibility | Samsung proprietary |
| Sync Method | Bluetooth 4.0 |
| Mobile App | S Health |